Midcentury Musings
MAY 9TH, 2019
Midcentury Musings: Design for a New Way of Living highlights how post-WWII designers were exploring and creating new ways of living. Inspired by the excitement of a booming economy, population, and scientific innovations, designers stretched the imagination of how we interact with and define our living spaces. After the austerity of the war, returning soldiers and Americans at home experienced a time of blossoming. It was an era of new breath and DIY, looking at the world through a different lens. This was a period of growth and enthusiasm, highlighted by an economic boom, a baby boom, a housing boom, the GI Bill, and the space race. The country was connected by television and a new interstate. Innovations in technology and industry lead to more disposable income and leisure time. An emerging upwardly mobile middle class took road trips and bought new homes in suburban tracts, while mass-production allowed more people to surround themselves with increasingly affordable "stuff" as symbols of this new world. The ideas orbiting this bold era of 1945 to the late 1960s continues to serve as a muse to us today.
This exhibition is inspired by the Denver Art Museum's summer beacon exhibition, Serious Play: Design in Midcentury America, which explores how play was a catalyst for creativity and innovation in post-war design. In collaboration, CU Denver students and professors created educational interpretations on view here and at the Denver Art Museum.
Midcentury Musings is made possible by the support of Modmood: Midcentury and Modern Furnishings, CU Denver's College of Arts & Media, and Denver Arts & Venues. A special thanks to the Denver Art Museum and Carla Hartmann of the Chairs Lady Studio, Michelle Carpenter, Ann Lambson, Bryan Leister, and Cydney Phan.
Student employees at the Next Stage Gallery are generously sponsored by Stella Yu.
This romantic masterpiece by Giacomo Puccini is both one of the world's great love stories and one of the most beloved operas of all time.Set among the bustle of 19th century Paris, six impoverished bohemians and young artists struggle to make ends meet while falling in and out love—ultimately bonding together in the face of tragedy. The timelessness of La Bohème resonates just as deeply with contemporary audiences as it did at its premiere in 1896.
EXPERIENCE LA BOHÈME 360◦ INTERACTIVE OPERA VIRTUAL REALITY EXPERIENCE
Experience La Bohème is a collaborative endeavor with Opera Colorado, Hypercube and the University of Colorado Denver, including students and faculty from the Digital Design and Music Entertainment and Industry Studies programs. The main goal of this immersive experience is to create an engaging and interactive VR experience that can excite younger audiences and expose them to the beauty and history of opera
The technology used to create this experience includes traditional filming, Augmented Reality (AR) using Aurasma, and 360 VR Capturing Devices including the Nokia Ozo powered by Hypercube, Unity, Vive interface, and Oculus Rift.
Through the use of virtual reality and video narratives, Experience La Bohème displays many aspects of creating a professional opera production. The video narratives included in Experience La Bohème are interviews with the main characters, director and conductor, and an overview of the history of La Bohème and the set design, costumes, wigs and makeup.
Virtual Reality
Virtual reality is a computer-generated fully immersive 3D environment. To enter this imaginary or constructed 3D environment the viewer must wear a virtual reality headset. This headset allows the viewer to experience and interact within the manufactured alternate worlds.
Augmented Reality
In 1901 the author of The Wizard of Oz, L. Frank Baum, mentions the idea of electronic spectacles that can overlay images and information onto "real" life, augmenting reality. Augmented reality is defined as a live, direct or indirect view of the world that is augmented or enhanced by computer generated sounds, video, animations or graphics. The augmentation is in real time and the artificial information is superimposed onto the real word.
Ambisonic Sound
Ambisonic Sound is a way of recording 360◦ full-sphere surround sound to give the viewer a fully immersive sound experience.
College of Arts & Media
Through an interdisciplinary approach that combines the arts, communication, and recording arts, the College of Arts & Media's Digital Design, Music Entertainment and Industry Studies programs strive to produce artists, designers, musicians and recording engineerswho use technology in innovative ways.
About the artists
Associate Professor Digital Design, Michelle Bauer Carpenter
Michelle Bauer Carpenter is an Associate Professor of Digital Design in the College of Arts & Media at the University of Colorado Denver. Carpenter has produced, directed and edited award winning experimental and documentary films. Her films have screened in numerous international and national film festivals, art galleries and on broadcast television. Her 2016 film Klocked: Women with Horsepower was recently won a Heartland Emmy Award for excellence in Journalist Enterprise and was nominated for two other Heartland Emmy Awards in the category of editing and motion graphics. Klocked: Women with Horsepower has also won three national and one international awards including an Award of Excellence Feature Documentary from the Hollywood International Independent Documentary Awards and it was featured for Women's History Month on KCET, Los Angeles and KQED San Francisco, California.
Carpenter's 2012 film about the catastrophic Fourmile fire titled Above the Ashes was awarded two prestigious Heartland Chapter Emmy Awards in the categories of best topical documentary and best program editing. The Heartland Chapter is a chapter in the National Academy of Television Arts & Sciences (NATAS) and the Emmy Award represents the best in the television industry.
Carpenter's creative research consists of two distinct styles of art making: traditional narrative video and experimental video documentary. The content of her work is driven by and created in response to primary experiences in her life. She draws from personal experiences to develop documentaries, experimental single-channel videos or video installations that empower women and encourage discourse on difficult subject matters, including the Fourmile fire, domestic violence, women's body issues, breast cancer and Alzheimer's.
Michelle's prior non-profit work experience with Free Speech TV includes collaboration with grassroots organizations and larger institutions including INDEX: Design to Improve Life, the Getty Museum, the Whitney Museum of American Art, the Roosevelt Institute, Human Rights Watch International, among others.
ARTIST STATEMENT
"For a writer, it's a word. For a composer or a musician, it's a note. For an editor or a filmmaker, it's a frame." Quentin Tarantino
Digital art and especially video, provides valuable contributions to the discourse on political and social issues of our day, and transforms the way people confront those issues. Utilizing the medium of video and installation, I address personal memories, loss and the construction of romantic and social mythologies about women, aging and even everyday heroism. In my work I seek to relate the complexity of human emotions and response. Often using personal narrative and gathered experiences, my work discusses the manifestation of violence, social constraints, personal loss and individual triumphs. Combining techniques of montage and collage, I combine original footage with found footage and dialog. Metaphor and implied meanings are the basis for my image selection and fuels the content of my work. My film and artwork asks the viewer to critically examine humanity and tour de force of life.
Associate Professor Digital Design, Travis Vermilye
Travis Vermilye works from his Denver Colorado studio on various types of medical and biological illustration and animation projects. He holds a Master of Fine Arts in Medical and Biological Illustration from the University of Michigan and is experienced in multiple areas ranging from 2D traditional illustration to 3D animation and graphics to physical modeling and sculpture. He has been involved in the creation of anatomical models, illustrations and animations derived from medical image data for the surgical planning of more than 20 cases of conjoined twins. His work has been shown on the Oprah Winfrey Show, Dateline NBC and Discovery Health as well as international magazines, e-zines and publications. He is a Professional Member of The The Association of Medical Illustrators and the Guild of Natural Science Illustrators. He is also involved with local museums such as The Denver Museum of Nature and Science via donated work and illustration.
Travis is Assistant Professor in the Department of Visual Art, College of Arts and Media, University of Colorado Denver where he instructs students on the art of creating scientific and medical imagery.
ARTIST STATEMENT regarding Visual Health Communication
Information about human health is widely available; however, the way in which that information is consumed does not necessarily inspire deep thought or self–reflection. Through the combination of illustrative techniques, information visualization, and application of design process, I communicate health information through visual means in an effort to provoke thought and encourage self–reflection regarding our health and health choices while portraying the beauty of the human body.
My experience as a medical illustrator provides a somewhat unique perspective on health issues and medical treatment. Throughout my career, I have been fortunate to witness multiple surgical procedures and gain first-hand knowledge of the personal connections people have to their health and body image. Such experiences provide valuable insights that inform my creative process and artistic direction.
Associate Professor Recording Arts, Leslie Gaston-Bird
Leslie was born in Dayton, Ohio. She began playing classical piano as a small child and studied privately with Mrs. Phyllis Katz for many years. Many of her young years were spent in a Montessori setting. At Chaminade-Julienne High School, Leslie took several honors classes and played in Jazz Lab Band (piano and keys), Chorus (Piano Accompanist), Marching Band (Snare, Marimba), Symphonic Band (Percussion) and String Ensemble (Double Bass).

Leslie enrolled in Indiana University in 1987 to pursue an A.S. degree in Audio Technology and a B.A degree in Telecommunications. She recorded many operas at IU, including "Tales of Hoffman" and "The Barber of Seville", and assisted Dr. David Pickett on Claude Baker's "Omaggie e Fantasie" work for double bass.

Shortly after graduating in 1991, Leslie was hired at NPR as a Broadcast / Recording Technician. She worked on many shows, such as "Morning Edition", "All Things Considered", "Talk of the Nation" and "Performance Today".

In 1995 Leslie moved to Denver to work for Colorado Public Radio, putting together hundreds of weekly features during her 7-year career there. In 2002, along with Kelley Griffin and Dan Drayer, she earned the 2002 Radio and Television Digital News Association's Edward R. Murrow Award for Large Market Documentary.

In 2002, Leslie began working at Post Modern Company in Denver, Colorado, restoring soundtracks for classic Sony / Columbia films dating as early as the 1930's. At the same time, she began work on her Master of Science in Recording Arts (MSRA) degree at the University of Colorado Denver.

She earned her MSRA degree in 2003 with a thesis titled, "Music Video Verite" which is a pioneering work in editing music with video and cutting them together for a seamless performance (a music video with no lip syncing but with cuts between locations). Shortly afterwards, she accepted a tenure-track position at CU Denver and is now Associate Professor of Recording Arts.

Her research and creative work focuses on multichannel audio and perception of quality. She has worked with Dolby Laboratories as a principal investigator and collaborated with Fraunhofer labs in Germany and Trinnov audio in France. In 2011, she earned a Fulbright Award to teach and perform research at the University of York in England. She has been a recording engineer on several news features, music recordings, television series, radio and television commercials as well as feature and documentary films.
Mark Anton Read - Creative Technologist
Founder of HYPERCUBE, Tier-1 Reality Design & Strategic Alliances Specializing in Future Media XR/VR/AR/AI Reality Design, Capture & Creation Systems Architecture
Design, Systems Integration, Consulting & Production services of high-end systems in cinematic & theatrical production venues, location-based entertainment & virtual environment simulation+replication with Interim management functions to help expand and realize large project goals across many markets and interconnected revenue streams.
Runs projects spanning several simultaneous modalities, across creative, technical, managerial teams.
Familiar with XR/VR/AR/AI, color-science, image acquisition, holography, computational photography, image processing, meta-data, storage, networking, distributed processing, cloud computing, compositing, image based modeling and rendering, camera tracking/solving, GPS, acoustics, digital marketing, industrial design, sales, and human interfaces
Outstanding Novel Technological Innovations: 1996: demonstrated first 360°VR [6K] fully immersive composite true video. 1999: Created Virtual Cinematography method for synchronizing real-time pre-visualization with high-quality post-processed rendering. 2003: Original Globally-Synchronized Metadata Scheme for Episodic-TV and Motion-Picture Production, 2003: Designed and implemented the World's first shared storage process for simultaneous scripting, shooting, editing and finishing in machine, human & legacy readable metadata. 2009: Created the High Dynamic Range (HDR) X-Ray imaging process, 2012: Created zero-depth emulsion printing & display process for fine art and display 2016: Created the first Globally-Synchronized capture & Metadata Scheme for 360°VR&XR synchronizing real-time pre-visualization with high-quality post-processed rendering for single and multi-camera/capture live & post scenarios. 2017: Created first VR/AR/XR delivery platform universal browser and social media IN-BRAND deployment.
Technological development and deployment in conjunction with NOKIA, AT&T, SPRINT, VERIZON, AMAZON, TURNER, HGTV, GAIA, SGI, CRAY Research, Philips, EVERTZ, Thomson, ARRI, SONY, Promise, Convergent, InterSense, Northrop Grumman, Coherent, Grass Valley, ORAD, CHIRON, Nokia, Apple, Kaminario
Creative work for Disney, Warner Bros., DreamWorks, IMAX, Paramount, Turner, VIACOM, Telemundo, GAIA, BBC, ABC, NBC, CBS, HRT, SBT,Collaborated with legends such as Clint Eastwood, Douglas Trumbull, Jane Goodall and Raymond Le Gué; on feature films; Flags of our Fathers, Letters from Iwo Jima, Changeling, Tropic Thunder and Harry Potter - Commercial campaigns for Comcast, Apple Computer, Sanofi & CocaCola
Music Performances & Videos: Coachella, Elliot Goldenthal, Reeve Carney, Elephant Revival, Raising Appalachia Dana Fuchs, Grayson Chance; Live events: NFL, NBA, Lamborghini, Chemical Brothers, Moby, Aphex Twin, NFL Super Bowl - Architectural Visualization: Chris Healer, Extell, Christian de Portzamparc One57; Location Based Entertainment: Hayden Planetarium - American Museum of Natural History
Awards and Accolades participated in: Best International Children's Programme (British Academy of Film and Television Arts, LazyTown), Meme of the Year [2016] (Reddit, LazyTown), World Technology Award nomination for invention of High Dynamic Range X-Ray imaging process.
Excellent reputation as a speaker, panelist and presenter at lectures, corporate focus groups and academic forums; NAB, IBC, InterBEE, Berlinale, HFF, CCW & The WTN
STARS OF SUPERNOVA is a new-media art exhibition taking place September 15th through November 11th, 2017 at the NXT STG Collaborative Gallery in the DPAC Galleria, located across from the Buell Theatre. This student run operation, a collaboration between CU Denver's College of Arts & Media and the Next Stage NOW! teams up with Plus Gallery and Denver Digerati for a fun and forward thinking exhibition that brings some of the leading assets of SUPERNOVA Outdoor Digital Animation Festival forward into a gallery context for greater contemplation and thoughtful experience.
SUPERNOVA STARS will weave a dynamic mix of works by the festival's three guest jurors Faiyaz Jafri (NYC), Raquel Meyers (Madrid, Spain) and Peter Burr (NYC), as well as solo spotlight artist Jeremy Couillard, alongside a major interactive new media work by CU Denver alum Robert Fikes IV. SUPERNOVA's guest jurors are celebrated worldwide for their pioneering work within the fields of new media, contemporary art, performance and digital motion graphics. This is a rare opportunity to experience a deeper side to their art, including multiple looping animations, an interactive video-game experience, 2d artworks including lenticular graphics, and some of the most exquisite 3d printed forms that show off this popular new modeling technique. Fikes' digital experience allows viewers to conduct their own Cuban ensemble by triggering audio clips on a MIDI interface, correlating with CU Denver's relationship with music producers in Cuba.
SUPERNOVA is the ultimate international showcase for digital motion art and one of Denver's most singular and innovative cultural projects. STARS of SUPERNOVA was curated by Plus Gallery owner and Denver Digerati Director Ivar Zeile. Jeremy Couillard works supported by Yours Mine & Ours Gallery, NYC.
Find out more about SUPERNOVA at supernovadenver.com
Find out who won Supernova 2017 here:
ABOUT THE ARTISTS
Faiyaz Jafri (1968) was born and raised in rural Holland of Dutch and Pakistani descent. He studied at the Technical University of Delft (MS) and is self-taught as an animation artist and music composer.
His work has been exhibited in the form of print, paintings, video installations, animations and life size sculptures all over the world. Jafri's award winning films have screened at prestigious festivals and museums. He has worked for international advertising clients and magazines, and on corporate and broadcast projects, in charge of motion graphics and post-production in the USA and Hong Kong. In recent years he has given workshops and lectures on his art and theories at universities, conferences, and festivals. He is the founder and curator of the Third Culture Film Festival in Hong Kong and is a part-time lecturer at Parsons School of Design in New York.
Jafri's art explores Jungian archetypes in the modern world, distilling the pop references of mass media and global popular culture into a visual shorthand of neo-archetypes. Realizing early on that a computer could draw a straighter line than he ever could, Jafri started using computers as soon as the technology became more readily available. In 1987 he began making his first illustrations on an Apple computer using basic vector imaging software. Cumbersome and limited as these programs may seem now, they were perfect for Jafri's already pictographic style. As the technology evolved, his work developed from flat line art into a stripped-down 3D computer graphics style he calls hyper-unrealism. Despite the endless possibilities offered by computers today, he stays close to his subject, leaving out unnecessary frills and extras until he's left with an image that is unambiguous and almost obscene in its blunt power.
Find out who won Supernova 2017 here:
Architecture show
Presented in the gallery space was a selection of drawings depicting towers created by the undergraduate seminar students at the University of Colorado Denver College of Architecture and Planning. Each student was encouraged to express a cultural optimism through the designs of their tower. Using advanced techniques for constructing the architectural form, each student used this optimistic viewpoint to forward a vision for the city that is both inclusive of diversity and open-ended in its outcome. Varying from the solitary to the exuberant, each tower is a reflection of the student that designed it and thus, speak to one another through contrast.
Each of the Architecture student's designs were then incorporated into a virtual reality program created by students from the University of Colorado Denver College of Arts and Media. The program took the models and made them into virtual skyscrapers. Once the viewer put on the goggles, they were transported to a virtual city where the student's skyscrapers towered over them. They were free to wander the virtual city and encouraged to look at the buildings from every angle. The program was concieved as a way for architects to actually interact and look at their work in scale while designing them.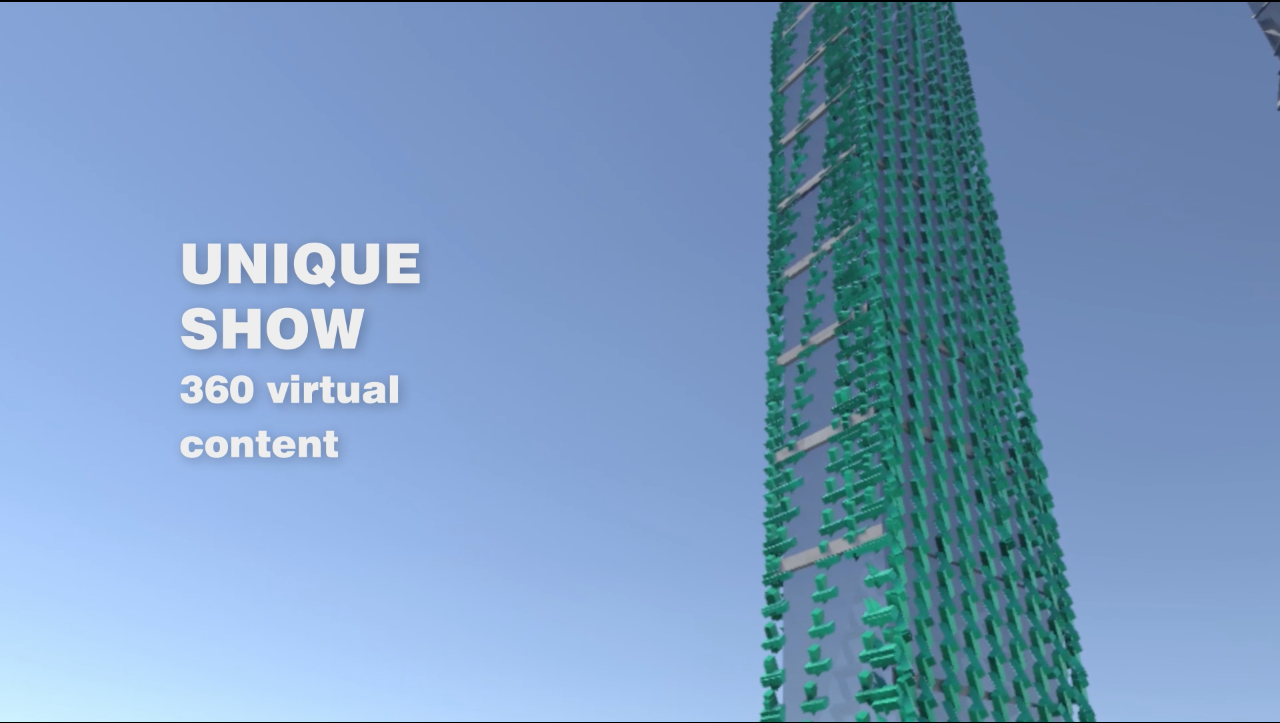 The Inagural Show
This exhibition was produced by students and faculty from CU Denver's College of Arts and media digital design program. Installations features include How the Heart Works, a program developed by faculty associate professors Bryan Leister and Travis Vermilye, which uses virtual reality headsets to show the inner workings of the heart using 3D modeling, enhanced by computer-generated sounds, images and graphics.
Associate professor Bryan Leister, of the Digital Design at CU Denver, was also showing a recently developed work for the Oculus Rift - A dwelling for the New Man. Leister developed a software that read the capacitive resistance of a plant, allowing the computer to differentiate between ways in which a plant is touched. the plant becomes an interface to the digital world allowing the person wearing the VR Headset to interact with the virtual environment. Onlookers could have participated by using a MIDI controller to alter the virtual world and assist the participant. The resulting drama plays out in the VR Headset and on screen as a potential future where physical location blends with a digital experience.
Also on view were augmented reality artworks. While virtual reality projects use headsets and headphones to create immersive environments, Augmented reality has viewers enhance two dimensional posters by viewing them through smartphones and tablets loaded with special software. This software brings the posters to life with animation. These posters were developed by students of the Digital Design program at CU Denver along side some virtual reality experiences played on phones to give the illusion of virtual reality.